[Heavy Duty Hose Nozzle] - The hose nozzle features high-quality brass, 100% metal body, and an ergonomic rubber handle, which increases the durability, protection and longevity of the hose nozzle. After a lot of wear and tear, it will not be easily damaged or rusted in daily use.

[Friendly Design] - Our heavy-duty nozzles are designed with thumb control without squeezing, allowing you to easily control the flow and adjust the water output quickly or slowly with just one finger. Simple operation, very suitable for the elderly and children

[Wide Application] - Fits all Standard 3/4" Garden Hose Thread (GHT) garden hoses. It also comes with 3 additional rubber sealing gaskets which effectively prevent any leaks or drips.

[Effort-Saving Lock] - This product comes with a locking ring that helps maintain constant pressure on the handle, providing even water output and keeping your arms free from soreness.

[Satisfied Product Service] - If you are not satisfied with our garden hose nozzles, please let us know and get a full refund or free replacement.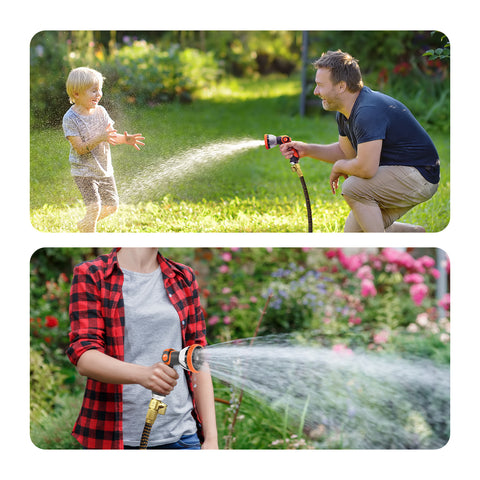 SPECIFICATION:
Product Weight: 4.6lb
Connector Material: 3/4" Solid Brass
Lowest & Highest Working Temperature: 41F - 122F
10 Function Spray Nozzle for All Your Watering Need